Recover NW23 COMMUNITY MEETING
Monday, JUNE 5
6:00 – 8:00 pm
Holiday Inn Express, NW 23rd & Vaughn
Refreshments provided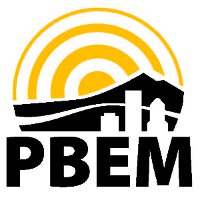 The Portland Bureau of Emergency Management and Nob Hill Business Association are co-hosting a community meeting with two key topics:
6 – 6:45 pm · Explosion: What happened on Oct. 19?
A representative of the Oregon Public Utility Commission will provide an overview of their investigation into the explosion and fire on NW 23rd and Glisan. The original PUC report is fairly long and includes some government/utility language that can be hard to understand. Representatives from the Oregon PUC, the City of Portland and other organizations will be available to answer questions about the incident.
7 – 8 pm · Driving business to NW 23rd: Strategy & Discussion
The Nob Hill Business Association will lead a discussion on drumming up business on 23rd, especially around the south end of the business district, where construction will continue to impact the area for the next two years. A collaborative effort to market NW 23rd and remind Portlanders of its many charms might be just what's needed to add a bit more buzz.
Neat stuff: Fence wrap & Pizzicato
If you've made your way towards 23rd and Glisan in the past few weeks, you've probably noticed a couple cool things: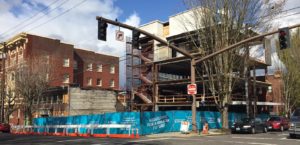 The fence wrap is up in all its cerulean blue glory! The recovery process progresses. Hopefully, the cheerful color adds some vibrancy to the construction site while promoting the businesses severely impacted by the explosion.
Pizzicato is back in business with a fresh new look. But one thing hasn't changed: The DELICIOUSNESS. Drop by for lunch or dinner or order a pie to go: 503.242.0023.
Traffic, parking, closures & construction
Parking enforcement: PBEM continues to work with PBOT to encourage strong parking enforcement in the area among concerns that contractors for the construction companies might be using short-term parking all day. If you see violations, please notify PBOT by calling 503.823.5195 or using the PDX Reporter app for your mobile phone. Outside regular business hours, try the Portland Police Non-Emergency line: 503.823.3333. Here's a link for more info on parking concerns.
Sewer repairs will likely disrupt traffic on NW 23rd between Flanders and Glisan from May 25 to 31. PBOT tells us that the work being done by River City Environmental should not be delayed. Traffic on 23rd will be reduced to one lane. A flagger will be there to keep things moving as smoothly as possible. PBOT wants you to know they know that the ongoing construction has impacted life on 23rd – that they wouldn't have approved the permit if the sewer work could be delayed.
Prepare for storms, earthquakes, floods and other emergencies
Register for PublicAlerts: To receive texts and emails about emergencies in your neighborhood, register for PublicAlerts.
Join your Neighborhood Emergency Team (NET): Our next round of free training begins June 20. Learn more about the program and register here.
Find your BEECN (Basic Earthquake Emergency Communication Node).
WAYS TO CONNECT to the Portland Bureau of Emergency Management
Jonna Papaefthimiou, Recover NW23 Project Manager
Felicia Heaton, Recover NW23 Communications and Outreach