Review + comment on the policies and objectives in the Discussion Draft from May 19 to July 21.
Tell us what you think!
PLEASE BE SPECIFIC. Include page numbers and headers (or other content identifiers) to make it easier for staff to consider your feedback and make updates. Your feedback will go directly to the staff person responsible for the content of the specific sections you comment on.
PLEASE READ THE FRONT. Reading the gray Summary of Revisions boxes at the beginning of each section will provide key guidance to focus your review and comments.
Staff from PBOT are happy to present for your group about the TSP topics you're interested in. We will respond to requests in the order they are received and do our best to try to accommodate them with our available staff.
Click below to learn about the TSP and each of the stages to update it.
Contents of the TSP Stage 3 Update:
Geographic policies and objectives – Policies for the eight transportation districts in the 2007 TSP are being audited and reoriented towards the five pattern areas in the adopted Comp Plan.
Street classifications – The TSP has seven street classifications. in In this stage we are updating the Emergency Response, Transit, and Traffic Classifications. Pedestrian classification changes will be addressed in the future Pedestrian Master Plan (PedPDX). Street Design and Bicycle classifications were updated in Stage 2 of the TSP. Central City Freight classifications changes are being addressed as part of the Central City 2035 Plan, other potential Freight classification changes will be considered as part of a future Freight Master Plan update.
TSP objectives – Now that the Comp Plan is adopted, additional objectives have been added to the TSP and processes such as VisionZero, autonomous vehicle research, performance measures, and bike share could lead to additional objectives. At the same time, are objectives needed? Are they moving PBOT's work plan forward, influencing decisions, and ensuring implementation? The Comp Plan has very few objectives; it is mainly a goals and policies document. Do goals and policies that impact transportation need additional direction?
Modal plans – summaries of existing policies, and programs for multiple modes of transportation – such as pedestrian, bicycle, and freight, are required by the state. Many of the modal plans in the 2007 TSP are out of date or no longer in existence. PBOT has developed "Master Plans," more detailed modal plans for the majority of modes. Staff is recommending that these Master Plans serve as the modal plans, with short summaries in the TSP for reference. For modes that do not have a Master Plan, staff is updating the TSP's modal plans. This organizational task will allow for smoother update procedures in the future.
Regional Transportation Plan (RTP) compliance and Performance Measures – We are updating performance measures that comply with the RTP. Our performance measures help us determine our progress towards goals such as those set for commute mode share targets, motor vehicle trips, and by Vision Zero.
Autonomous vehicles – Autonomous vehicles are designed to operate with little or no human control. Autonomous vehicles offer both opportunities and risks. The City is developing a policy to increase the likelihood that autonomous vehicles advance safety, equity, climate, and economic goals. Click here for FAQ on autonomous vehicles.
Handout about the TSP Stage 3 Update.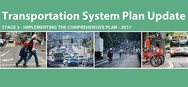 Portland is projected to add 140,000 new jobs and 260,000 new residents over the next 20 years. If in 2035 the percentage of people who drive alone to work remains the same as it is now (nearly 60 percent), traffic, climate pollution, and household spending on vehicles and fuel will all worsen significantly. In order to accommodate this growth, our transportation system must provide Portlanders safer and more convenient ways to walk, bike, and take transit for more trips.
Learn about adopted TSP Programs + Projects
Visit our website for more information and to join our email list to receive periodic updates on this topic: portlandoregon.gov/transportation/TSPupdate